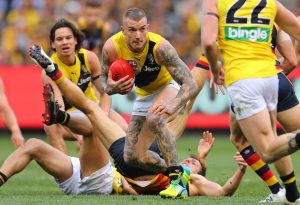 AFL tips 2019 update
The AFL tips and betting 2019 season starts on the 23 March with the AFL season opener between Richmond and Carlton and we are only 1 month as we look forward to a massive expert AFL tips 2019 year.
AFL Bonus Season Preview – out week of 11 March
Our AFL Bonus Season Preview 2019 is nearly compiled and we will be sending our expert AFL tips 2019 comprehensive look at every side in the AFL in preparation for the AFL tips and betting season week of 11 March 2019.
Our AFL Bonus Season preview will be full of fascinating information about how we see the AFL 2019 season for every side as we retrace their performances of 2018 and how our HBM Human Behaviour Model may apply to their chances in AFL 2019. It is also a great way to look at the AFL tips and betting Futures market that takes in betting types of total game wins, top 8 finish, top 4 finish before a ball is kicked our bounced.
We also look at three areas of the game that will likely affect our AFL tips and betting focus as we move toward the start of the AFL season and our expert AFL tips will continue to dig out these areas that are vital to our view of teams strengths and weaknesses.
JLT Community series week 1 game results
Carlton 100 Essendon 91
West Coast 99 Geelong 65
North 77 St Kilda 102
Adelaide 106 Port Adelaide 89
GWS 81 Sydney 59
Brisbane 102 Hawthorn 60
Richmond 113 Melbourne 101
Gold Coast 77 Western Bulldogs 72
Fremantle v Collingwood – Monday night 
 AFL tips and betting early observations
 The Match Day Coach Is Dead
In AFL tips and betting 2019 we have formed a view from an observation that the ability of the Coach to impact the match day outcome on game day is more heavily restricted than ever before. Runners are only permitted to enter the arena once a goal has been scored and must be leaving the arena before the re-start of play. This heavily restricts any message/information a Senior Coach may wish to get to his playing group.
It has never been as important to have the leadership group in sync with the Senior and Assistant Coaches from their weekly planning and game simulation desires as the on field direction will need to come from the players themselves. Teams with senior playing groups with great leadership qualities should greatly benefit from this change. Conversely young groups may struggle.
Momentum Changer
One of the great aspects to watch in the AFL tips and betting 2019 season this year is how teams handle the momentum swings in games. In the past it has been dealt with by throwing a player or two behind the ball but with the new 6 x 6 x 6 rule (6 forwards. 6 mids and 6 backs) all needing to begin in those spots, the old way is now illegal. It's very possible that the only way to swing the momentum is at the coalface. This looks a year where centre clearances are worth their weight in gold! This will benefit some teams more than others. Gun ruckman and clearance midfielders are crucial. At iTIpsports AFL tips and betting, we will be heavily scrutinizing teams relative strengths in these areas.
Two Ruckman or your behind the Curve
The big fellas are back in vogue in AFL tips and betting 2019 for two reasons. The 6 x 6 x 6 rule means hand to ground dominance and clearances in the middle is vitally important to scoring opportunities. Also the rule change of grabbing the ball out of ruck no longer being called "prior opportunity" allows the taller players to take clean possession out of ruck contests and drive their team forward.
When you couple this with sides no longer really able to work a third man in defense the height advantage of a resting ruckmen up forward may pay juicy dividends. At iTipsports we will be running the ruler over teams in the Two Ruck space ands certainly a space to watch.
 JOIN NOW – EARLY BIRD OFFER
AFL tips and betting 2019

You can JOIN NOW AFL Season 2019 only $149
Every round, every game
JOIN NOW at http://itipsports.com.au/join/