Golden Slipper 2018 – Sydney Racing Tips
Join Melbourne-Sydney Autumn Racing Carnival 2019 Tips
Join Sydney Racing Tips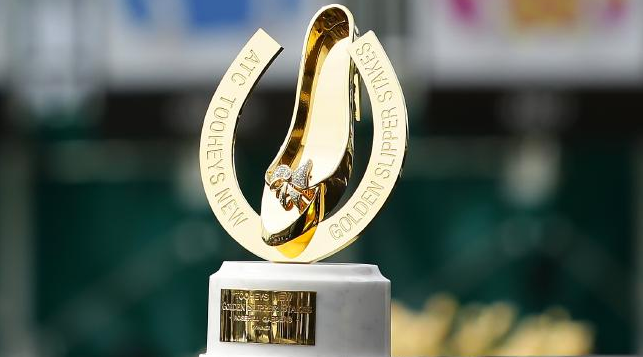 Group 1 $3.5 million

Golden Slipper Stakes




Rosehill

, Saturday 24 March 2018 Worlds richest 2 year old race
The Golden Slipper 2018 is a Group 1 race for two-year-olds held at Rosehill racecourse as part of the Sydney Autumn Racing Carnival. The race is run over a distance of 1200 metres under set weight conditions and is worth $3,500,000 in prize money. iTipsports Racing will be there with all the Sydney Racing Tips action.
The Golden Slipper 2018 has the largest prize money of any two year old race in the world and has become the pride and joy of the Sydney Autumn Racing Carnival.
The Golden Slipper Stakes was first run in 1957 with prizemoney of 20,000 pounds and is now the world's richest race for two-year-old race. The race receives world wide exposure, especially in the racing rich countries of UniteD Arab Emirates, China, Hong Kong and Singapore who are all looking for breeding purposes the stars of the Golden Slipper.
More Information About Golden Slipper 2018
Golden Slipper Day is the biggest race day of the Rosehill racecourse racing over the Sydney Autumn Racing Carnival. The Golden Slipper Stakes is the richest race and is the premier event for youngsters in this country.
Sydney Racing Tips
analyst Blaazing Ben Perkins is one of Australia's most informed and best judges of Racing form over a long period of time with his insightful and colourful commentary and he will be there with all of the form and tips for a big Sydney Autumn Racing Carnival 2018.
Golden Slipper Tips
iTipsports Racing provides Sydney Racing Expert tips for the Golden Slipper Stakes. The market for the Golden Slipper Stakes for 2018 is as follows:
$8 Performer
$15 Sunlight, Gongs, Setsuna, Jonker, Elessedil
$17 Bondi, EF Troop
$26 Invincible Lad, King, Plague Stone
There are a number of Slipper lead up races for two-year-olds at Rosehill like the Riesling Slipper Trial, Todman Slipper Trial and the Pago Pago Stakes. These races provide Golden Slipper ballot exemptions for winners.
Some of the better two-year-olds to win a Slipper recently include Pierro (2012), Sepoy (2011), Miss Finland (2006), Belle de Jour (2000), Guineas (1997), Bint Marscay (1993), and the champion 2yo of his time, Todman, who won the inaugural race in 1957.
Other Group Races On Golden Slipper Day
Other major Group races on Golden Slipper Day as part of the Sydney Autumn Racing Carnival at Rosehill racecourse are the George Ryder Stakes, The Ranvet Stakes and The Galaxy.